Viber app for the Tablet
Today Viber is called as analogue of popular programm Skype - a program for making free calls. Of course, both programs allow you to send free messages to users, and even make calls and video calls, but Viber for Android tablets has benefits to which Skype is not able to withstand.
Viber app for the tablet allows users to send text messages, multimedia files and make calls to those who also installed the application on a tablet, smart phone or personal computer. And the main benefit - everuthing is for free, you are paying only for Internet!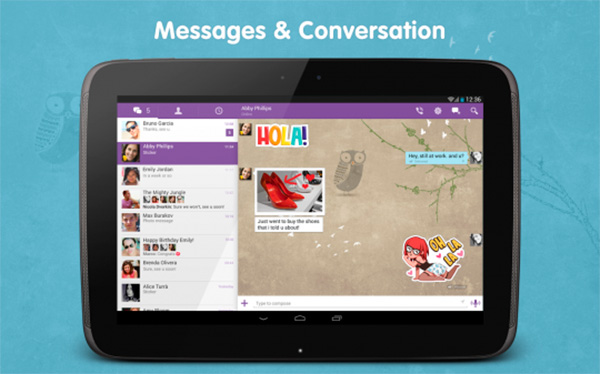 Unfortinatelly Skype mostly has problems with quality of sound. Especially when when we are talking about the version installed on a tablet - no matter how powerful it is, Skype installed on it, fully and without annoying small problems works rarely.
The solution is very simple - you just need to download and install on the tablet Viber. The main benefit of Viber is the ability to synchronize all of the user's devices on which the application is installed. So you have the opportunity to view the history of calls and messages from any device on which you have Viber account.
The convenience of using Viberon tablet also surpassed Skype
The application interface is designed in such a way that even the most experienced users can easily learn it. Intuitive menus, ease of execution of each function maximized. Of course, in the functional mode of group chats and calls, Viber has bypassed Skype.
In the group communication within the applications can be operated up to 100 participants, and their number will not affect the quality of the connection. We need to say thet the most important advantage of Viber is undoubtedly the ability to download Viber for a tablet for free. Also you should not forget that the variety of smiles and stickers is really amazing.