Download Viber for Blackberry
The version of Viber for Blackberry was developed just for you. Blackberry phones are mostly for people to whom business correspondence, postal services, planners, creating a list of meetings is important Therefore, Viber will be a nice addition to the basic functionality of the phone.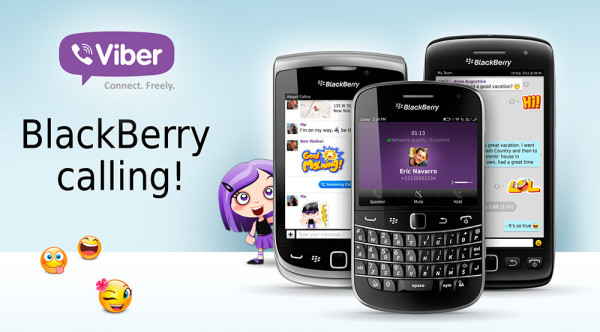 Main features Viber for Blackberry:
Free calls over Wi-Fi (only works on OS 5 + OS 7)
Improved application on OS 5
Stickers exchange has become much faster and more comfortable
Fixed minor bugs in the program
The creation of chat contacts and dialogues between Viber
Before proceeding to install on your phone Viber for Blackberry, check out the main problems and frequently asked questions:
Why free calls are not supported on the BlackBerry OS 6?
BlackBerry OS 6 has a number of technical constraints which do not allow making a call. Therefore, free calls are available for BlackBerry OS 5 and BlackBerry OS 7 ONLY !!.
How to check the version of the OS on the phone?
On OS 7 and OS 6 - go to 'Options' ->' device '->' version devices »/ 'Options' ->' Device '->' About Device Versions'

On OS 5 - go to "Options" -> "About phone» / 'Options' -> 'About'

Sometimes it happens that when you make a call using the 3G network it is not possible to get through to the user. The developers recommend to check the settings of APN. To do this, follow these steps in the phone menu:
For 7 OS go to 'Options' -> 'Device' -> 'Advanced System Settings' -> 'TCP IP', and enter the correct operator APN settings, save the changes.
For OS 5 go to 'Options' ->' Advanced Options' -> 'TCP / IP, enter the APN settings of your service, applying changes. If the problem persists, you can contact customer service with your operator.
Download Viber for Blackberry